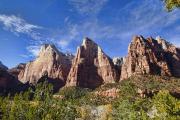 Edit
Zion and Bryce Canyon Day Tour from Salt Lake City
Book Tours Online!
, Salt Lake City
, UT
99999
|
Directions
About Zion and Bryce Canyon Day Tour from Salt Lake City
Experience a 1-day guided tour of Zion and Bryce Canyon National Parks, two of Utah's most amazing landscapes. An expert guide will explain both the human and natural history of each park as guests are shuttled between them in a comfortable vehicle. Gaze at the wonders of the parks from the West Temple in Zion to the magical section of Bryce Canyon known as Sunset Point.
After being picked up at your hotel, travel with your expert local guide in a comfortable minivan to the wonder that is Zion National Park. Nearly 12,000 years ago, the first humans to wander the area tracked and hunted mammoths and giant sloths. Today there isn't much trace of humans in the park, but visit the Human History Museum to learn about our past there. Get a great look at the red and white sandstone cliffs that flank the roads into the park and drive through the 146,597-acre (59,326-hectare) Zion, established as a national park in 1919. Visit the Temple of Sinawava, a huge natural arena, noting the two large stone pillars known as the 'altar' and the 'pulpit.' Hike up to Weeping Rock, where there's a constant mist of water cascading into the ravine below.

After an hourlong lunch at a café, head off to dazzling Bryce Canyon National Park. By national park standards, Bryce Canyon is small: only 35,835 acres (14,502 hectares), which is about the size of the city of San Francisco. This means you can see a lot of it in a short time. Thanks to rainwater and the erosive force of frost wedging — repeated freezing and thawing of water in cracks in rock — the park is filled with incredible rock formations and unusual geology. Gawk at Fairyland Point's magical-looking hoodoos — tall, thin rocks that look like they're from another planet or dimension and are also known as 'fairy chimneys.' Take in the panoramic views and some of the freshest air in the country before being shuttled back to your hotel at the end of the daylong tour.