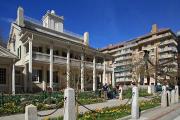 Edit
Salt Lake City Sightseeing Tour
Book Tours Online!
, Salt Lake City
, UT
99999
|
Directions
About Salt Lake City Sightseeing Tour
On this sightseeing tour of Salt Lake City, visit popular attractions such as Temple Square, the State Capitol Building, Old Deseret Village, the Mormon Trail, Fort Douglas and sites from the 2002 Winter Olympics. You???ll be treated to a live organ recital at the world-famous Mormon Tabernacle, as well as lunch at the Lion House, Brigham Young's former pioneer home.
You???ll be picked up from your downtown hotel in the morning for your sightseeing tour of Salt Lake City. Aboard a comfortable coach, cruise around the city and enjoy commentary from your knowledgeable guide.
Visit the beautiful State Capitol Building, explore Old Deseret Village (also known as Pioneer Village) and see the famous Mormon Trail. In Temple Square, treat your senses to a tour of the gardens and a live recital in the world-famous Mormon Tabernacle, also known as the Salt Lake Tabernacle. Inside the building, you???ll hear music emanating from the organ???s 11,623 pipes!
Afterward, enjoy a meal (not included) in the pioneer home of Utah???s first governor, Brigham Young. The Lion House was built in 1856 and was converted from Young???s home into a lovely restaurant.
You???ll also see historic Fort Douglas, 100-year-old mansions and churches, University of Utah, the Pony Express Monument and sites used in the 2002 Winter Olympics such as Olympic Village, Olympic Stadium, Olympic Cauldron and Olympic Legacy Plaza.
At the end of your tour, you???ll be dropped off at your downtown hotel.