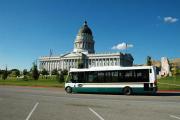 Edit
Salt Lake City Tour and Mormon Tabernacle Choir Performance
Book Tours Online!
, Salt Lake City
, UT
99999
|
Directions
About Salt Lake City Tour and Mormon Tabernacle Choir Performance
Don???t miss the world-famous Mormon Tabernacle Choir! In addition to a Salt Lake City sightseeing tour of sites including the State Capital Building, Old Deseret Village and Temple Square, you???ll be treated to a breathtaking performance of one of the most celebrated choirs in history. Choose an intimate evening rehearsal on Thursdays or a full-blown concert on Sunday mornings.
After pickup from your downtown hotel, you???ll be taken on a brief tour of Salt Lake City. First stop is the State Capitol Building, noted as one of America???s most beautiful capitol buildings. Next, visit the historic Mormon Trail and stop by Old Deseret Village, also known as Pioneer Village.
Explore the gardens of Temple Square, see historic Fort Douglas, admire 100-year-old mansions and churches, pass by Utah State University and venues used in the 2002 Winter Olympics, and see the Pony Express Monument.
The highlight of your tour is hearing the Mormon Tabernacle Choir sing! Depending on the season, you???ll head to either the LDS Conference Center or the Mormon Tabernacle to enjoy an amazing live performance of one of the most celebrated choirs in history. The 360-member, all-volunteer Mormon Tabernacle Choir has won Grammy and Emmy Awards due to their beautiful sounds and stellar performances. You???ve never heard anything like it!
For a more intimate experience, choose the Thursday evening tour. After your sightseeing tour, have dinner in Brigham Young???s pioneer home (own expense) before watching a Mormon Tabernacle Choir rehearsal accompanied by the beautiful sounds of the organ player.
Or, choose the Sunday morning tour to witness a full concert, broadcasted live. You???ll take a sightseeing tour and have lunch (own expense) after the concert.
After this amazing musical experience, you???ll be taken back to your downtown hotel.